Welcome at Primigenius.com
Primigenius (established in 1983) is a (deliberate) small company, specialized in fossils, stone implements and antiquities.
As the North Sea turned out to be an almost inexhaustible source of Pleistocene mammal remains (e.g. mammoth, woolly rhino, bison, horse, reindeer, giant deer etc.) that are dredged from the sea bottom by fishtrawlers, we collect these bones in the harbours.
Geert Nijboer, the owner of Primigenius, started collecting for the Dutch National Museum of Geology and Minerology and later founded his own company.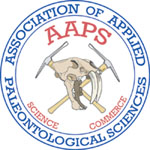 Further material is obtained on shows in Europe and the U.S.A. and from private collectors. After careful preparation and determination, the material is sold to museums, dealers and collectors all over the world, on shows and through our website. Over 90 % is exported, mainly to the U.S.A., Japan, Italy, Spain and France. Primitive stone tools –sometimes found associated with bones- and antiquities (roughly from the Roman period and older) complete the range.

As a long-time member of the Association of Applied Paleontological Sciences, Primigenius supports the code of ethics as formulated by this institution.